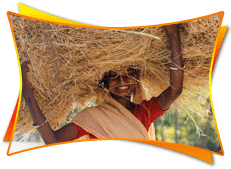 Sightseeing of Jaipur city visiting Hawa Mahal- Palace of Winds(This five storied building which looks out over the main street of the old city is one of Jaipur's major landmarks. This is a stunning example of the Rajput artistry with it's pink, semi-octagonal and delicately honey combeds and stone windows
Tour Destinations : Delhi - Mandawa - Bikaner - Jaisalmer - Jodhpur - Jaipur - Fatehpur Sikri - Agra – Delhi
Tour Duration : 12 Nights / 13 Days

Tour Itinerary
Day 01: Delhi
The start of your royal tour is by arriving at the capital city of Delhi, for an overnight stay.

Day 02: Delhi
Begin with a full day tour of the capital, which has still kept its various shades of ancient and modern Delhi alive.

Day 03: Mandawa
Drive down to Mukund Garh Fort, a heritage hotel of Mandawa in Shekhawati region.

Day 04: Bikaner
After experiencing the traditional way of living, we'll arrive the next day to the city situated in the heart of Thar desert, Bikaner.

Day 05: Jaisalmer
Welcome to the desert city of Jaisalmer, which evokes a pure magic and brilliance of the desert, for an overnight stay.

Day 06: Jaisalmer
Explore the exotic, remote and beautiful city of Jaisalmer, which is also known as a bit of a paradox in itself.

Day 07: Jodhpur
Leave Jaisalmer for Jodhpur whose genius of sculpture comes to life in its exquisite palaces, forts, temples and havelis.

Day 08: Jodhpur
Enjoy the tour of Jodhpur, which stands as a testimony to the royal magnificence.

Day 09: Jaipur
Welcome to the 'Pink city' of Jaipur, surrounded by rugged Aravali hills, crowned with forts and enclosed by embattled walls.

Day 10: Jaipur
Wander through the city of Jaipur, which symbolises the nine divisions of the world and enjoy the elephant ride while exploring the Amber fort.

Day 11: Jaipur - Fatehpur Sikri - Agra
Leave Jaipur via Fatehpur Sikri to Agra.

Day 12: Agra - Delhi
Leaving Agra to end the tour at Delhi with an overnight stay.

Day 13: Delhi
Leaving Delhi to return back to your respective destination, treasuring up the sweet memories of North India.