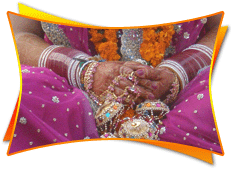 Udaipur is one of the most known tourist destinations in India. The city itself is a natural for romance and what more occasions could be fitted but a wedding. The Royal Wedding in Rajasthan Package presents an opportunity for couples to pursue the dream wedding where every guest will be in for a treat in a royal manner befitted for kings and queens, and a red carpet laid out for the soon to be husband and wife.
Tour Destinations : Udaipur
Tour Duration : 03 Nights / 04 Days

Tour Itinerary
Udaipur-
The city of inherent charm, romance houses, grand palaces and historic venues, suitable for 'Royal Weddings'. A dream wedding which is highlighted with a traditional welcome that is given to every guest in a royal manner befitting queens and kings and, a red carpet is laid out to greet them. The arrangements for 4 days wedding are done by our wedding professionals and here is the glimpse of the grand event which will get imprinted in your mind forever.

Day 01:
Airport pick and royal welcome accorded with our band and then followed by royal welcome in the hotel wherein shehnai creates the soothing mood. Welcome drink will be served in the reception area. There will be arrangements for lunch at Shiv Niwas courtyard.

Day 02:
The day will be full of grand arrangements that give you relaxation and leisure. Guests can opt to visit the city's popular markets. Then arrangements for lunch will be done at Darbar hall.


Day 03:
The day is devoted to relaxation and leisure followed by lunch which is arranged either at the Promenade or at Shiv Niwas. The morning is filled with wedding arrangements for the grand wedding. In the noon time ladies get assisted to wear attire for wedding by our staff and gentlemen will be assisted with tying safas. Then all of the guests gather at Shiv Niwas or Shiv Pole or Fatheh Prakash palace or Fatheh Pole and welcome drinks are served to the guests here. Then begins the royal procession of guests with the beautiful Rajasthani attires and rose water is sprinkled upon them which is followed by nagada or dhol.
Then all of the guests follow the beautifully decorated horse which bears bridegroom and there are white liveried men with lances who line up around the entire procession with mashaals in hands. Then the entire group of people with guests head towards the Promenande where palace band welcomes all of them. This is followed by ushering of guests in decorated boats to be taken across the lake pichola to the island palace known as Jagmandir.

Day 04:
The guests are prepared to leave with imprints of wedding on mind in Udaipur. It is the duty of our hospitality staff that all the cars/coaches are all fully ready to transfer all the guests to the railway station and airport. All logistics and ticketing are well taken care of by our travel desk.