Places to Visit in Rajasthan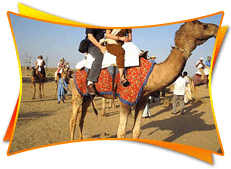 Ajmer
120 km (78 miles) west of Jaipur, was founded by great Raja Prithviraj Chauhan in 7th century. Ajmer is known for Dargah of Khwaja Mu'in-ud-din Chisti (1142-1236) and Ana Sagar Lake. Also known for the famous boarding schools Sophia college (Girls) and Mayo college (Boys).
Alwar
143 km from Jaipur and 164 km from Delhi, Alwar is a beautiful city.
Banswara
527 km from Jaipur & 160 kms from Udaipur, Banswara is a small town famous for Baneshwar Festival.
Bharatpur
175 km from Jaipur & 185 km from Delhi, is know for the Keoladeo Ghana National Park (Bird Sanctuary) and also a halting place on the way from Agra (55 km). The only city that was ruled by Jats. And you can also see the old fort and museum.
Bikaner
In route on your way from Jaipur (330 km) to Jaisalmer (320 km) was founded in 15th century by Rao Bika. Known for durries, carpets, hand painted lamp shades, and mojari slippers. Also for the camel safari and Junagarh Fort.
Bundi
206 km from Jaipur and 40 km from Kota, Bundi is surrounded by the Aravalli hills on the three sides and is circumscribed by a massive wall with four gateways.
Chittaurgarh
110 km from Udaipur and 300 km from Jaipur was founded by Bappa Rawal in 8th century. Known for the massive fort 3 mile long and 495 feet high. Mirabai, 16th century poet and saint was from here. Also known fro Vijaystambha, Kirtistambha (Tower of Victory), and Rani Padmini.
Dungarpur
Situated about 110 km south of Udaipur, Dungarpur, or the City of Hills, was founded in the 13ht century. You can visit the Juna Mahal which is adorned with beautiful frescoes, paintings, mirror work and glass inlays; the well maintained Government run Rajmata Devendra Kanwar Museum and the beautiful Deo Somnath Temple.
Jaipur
Capital city of Rajasthan also known as "Pink City" is about 250 km from Delhi, and your starting point for Rajasthan. Founded by Raja Sawai Jai Singh II in 1727 is famous for Amber Fort, jantar mantar, hawa mahal, city palace & Sisodia Rani Ka Bagh. Also for the textile block prints, semi precious jewelry, handicraft items and Raj Mandhir (Movie theater).
Jodhpur
250 km from Jaipur, also called "Blue City" is second city of Rajasthan. Founded by Rao Jodha is famous for Mehrangarh Fort, Umed Bhawan Palace, museum and handicrafts.
Jaisalmer
275 Kms from Jodhpur, also called "Golden City" was founded by Rao Jaisal. Famous for the Jaisalmer Fort, Patwon-ki-haveli, sand dunes, and ideal for camel rides and safaris.
Jhalawar
335 km from Jaipur, 87 km from Kota, the princely state of the Jhalas, Jhalawar was created in 1838 A.D.
Kota
240 km from Jaipur, 131 km from Ajmer, Kota is famous for Dussehra Mela.
Kumbhalgarh
85 km from Udaipur, Kumbhalgarh is famous for Kumbhalgarh Wildlife Sanctuary.
Mount Abu
190 Kms from Udaipur & 27 Km from Abu, is the only hill resort of Rajasthan. Famous for Dilwara Temples, Guru Shikar, and Nakki Lake.
Nathdwara
48 km from Udaipur in Rajasthan lies the popular relegious place, Nathdwara.
Pushkar
14 km from Ajmer, is famous for the Pushkar Fair and Brahma Temple and beautiful view of desert at sunset.
Ranakpur
Ranakpur is amongst the five most important pilgrimage sites of Jainism. It is home to an exceptionally beautiful temple complex in the Aravali ranges and a must visit for the tourists coming to this region.
Rohet
160 km from Udaipur,212 km from Indore, Rohet is famous for its local cultures and traditions.
Sariska
110 km from Jaipur and 35 km from Alwar is famous for the Tiger Reserve Sanctuary.
Ranthambore
135 km from Jaipur and 11 km from Sawai Madhopur, Ranthambhore, is famous for the Ranthambore National Park, Tiger Reserve Project.